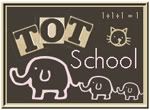 This week our theme was Dr. Seuss in honor of his "birthday" this week. What a great theme! There is always another project that we can do or book to read. We were quite busy this week!
This week we had some more defined activities, though mostly Sprout had a choice of what she wanted to do, and she made most of the activities into a game of her own creation.
I did set up Tot Trays this week to develop some activities that are more focused for Sprout. I found the idea for
Tot Trays
at
1+1+1=1
. Carissa has so many great ideas, her site has really helped me to focus our play more.
Our Tot Trays this week include
Baby's Boo (from

Growing Up Learning

) -- This is to help Sprout with her compassion for others, while she takes care of Mickey when he gets hurt.

Knock It Down (also from Growing Up Learning) -- Sprout really like this activity, as she go to throw a ball at cups that I arranged for her on the floor

Playdough

A bag of red treasures to look at and sort

A Small Spaces activity from

Tot Trays

A Transferring Activity from

Tot Trays
We started the week painting the Cat in the Hat's hat. This was Sprout's first time using an easel. I was very happy with how well she did. Though she does seem to be in a "minimalist" phase.
As an added bit. Curiosity may not have killed the dog, but he did have something to show for it. Now this wasn't Sprout's fault. Simon just got too curious and got in the way. (Though I've cleaned his head, there is still a pink tint to his fur in this spot.)
We also did a Green Eggs and Ham coloring page. I gave Sprout the green dot paint and a green crayon.
Our final project for the week was our
stART project
that went along with
One Fish, Two Fish, Red Fish Blue Fish.
Please check out my post on this project. I would love to get more opinions on this kind of art project.
Tot Books
This was the first time we have used a Tot Book or a Tot Pack. Though in some form, I probably did have high hopes, I wasn't expecting all that much from these this week. Sprout has never seen them before and is very active. She is not a big fan of activities where she needs to sit and play with someone, using "directions."
I started using the
Dr. Seuss Tot Pack
I made. Sprout was interested in taking the matching cards out of their envelope and putting them back in, but that was about it. She found the
Little Einsteins Tot Book
I made, and wanted to play with that. She was a little more into this because she knows those characters far better than Dr. Seuss'. Most of his books are a little long for Sprout to sit through.
Sprout also had some "real world" learning opportunities this week. She found a Mickey and friends magnet of the fridge this week, and of course was drawn to play with it. She learned that magnets don't stick to cabinets (sorry about the camera strap in the picture, I was using JGD's camera, and I'm not used to the position of the lens).
We also "washed the dishes" this week. I had planned to make Oobleck, but never made it to the store to buy more cornstarch, so I decided to give it a go with what I had. It didn't work, and I was looking for another sensory opportunity for Sprout. So we washed dishes. I got this idea from
Montessori for the Earth
. Sprout had a lot of fun with this activity, and the mess didn't get too bad.
What did we read this week?
Well, we read several of Dr. Seuss' books. And we were able to finish most of the ones we read. Sprout even decided to read them on her own.
Next Week
I got jumbo lacing beads for Sprout to start using next week when our theme is colors and shapes. She found them, and wanted to play with them. I was quite impressed when she was able to lace one after I very briefly showed her how to use them. Then she dumped them all over the floor and we had a talk about treating our toys and properly and what happens when we don't.
To see what other people did this week go to Tot School.