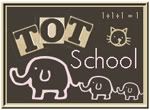 This week's theme was "All About Me." This theme incorporated body parts, family and home/community. We will be getting together with JGD's family for Passover shortly and want to make sure that Sprout is well acquainted with the family members she doesn't see as regularly.
Sprout and I are finally getting rid of our colds and getting back to normal.
This week's Tot Trays were
House Shape "Pattern" Blocks

Family Matching

Play Dough with people, body parts and house cookie cutters

Boo Boo Bear

Lacing Beads

Transferring
I added velcro to the House Pattern to see if Sprout might be more interested in using this "correctly" with it. Not so much, but she did enjoy pulling everything off the velcro and walking around the house with the pieces.
I made a family matching for Sprout using her immediate family. I made this using half a fold and laminated one set of the pictures on. Again, this was an experiment to see if this would get Sprout's attention more than a traditional matching game. She did 3 pics and then was on to something new.
Sprout actually pulled the play dough off the shelf this week, so we played with it for a little while, but it didn't keep her attention for long. She was definitely interested in the rolling pin and cookie cutters though. In fact, she really enjoyed piling the cookie cutters on other trays and moving the piles around.
She was not interested in the Boo Boo Bear activity at all, and I don't have any picture of her using the lacing beads because I was too busy trying to show her how to lace the beads to the middle of the string and add more than one bead. We did a little transferring this week, but Sprout was definitely not as interested this week. I'll change this one around a bit for next week.
We only did a couple projects this week. One was very minor, we did a
dot paint house
.
While doing this project, I thought I would see if Sprout could match the tops to the right markers like she did last time. This time she was good with getting the tops on, but they weren't the right colors. We'll keep working on that.
I didn't make a full Tot Pack for this week, but I did make a couple activities. The matching game that was used for a Tot Tray and book of family members. I made the book to help Sprout start placing names with faces. Sprout had different ideas. She loves the books and definitely loves looking at her family members, but every picture (including the dog) was "Daddy." (She also pointed to a picture of some kids on her shampoo bottle and said "Daddy" so maybe this is associated with pictures of people in general.)
Sprout wasn't overly interested in Tot Trays a couple days this week so I searched the house for something to use for a Sensory Bucket. We used the decorative shredded paper used in gift baskets that I found lying around the house, both from baskets and for them. We also added some ribbon scraps and some scraps from the blanket JGD is making for Project Linus.
The mess this made, made me really happy that I decided to use something like this which was easier to clean up instead of the rice that I had planned on using. We'll be saving that one for a while!
Sprout also played with shaving cream this week. She had done this before when we was younger, but it was like new again this week. She was very hesitant to begin with, but it didn't take long for her to get into it. This was always a favorite activity (of mine and my "students") when I taught a 3 year old class., so I'm sure we will be doing this more in the future.
This week Sprout thought she would help me reorganize the pantry. She actually did this a couple times this week. I might be able to find everything one of these days!
Sprout also tried on some new clothes this week. We'll have to work on fit!
JGD hurt his back and was given some exercises to do. Sprout thought she would help out (Sorry about the glare).
She also thought she would help JGD with his blanket for Project Linus.
We had a really great week this week, and it ended with a visit from one of JGM's closest friends since I was a little older than Sprout. It was great spending time with a long time friend and Sprout had a great time cuddling up to make a car for Handy Manny's race and read a book or two. Wish we lived closer!
Nest week we will be learning about Passover as we get ready for the holiday to begin the following Monday night. I can't believe it's here already. I have several projects in mind, we'll see what we get to!
To see what other Tots were up to this week go to 1+1+1=1.