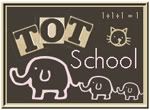 Sprout is almost 22 months old
This week we focused on butterflies and bugs. Honestly, for some reason, I had a tough time getting back into the swing of things this week, and we didn't get much done. Hopefully, I'll be better off for next week
Tot Trays
This week's Tot Trays were
Visual Discrimination Matching Game

Playdough

Stickers

Wooden Lacing Beads

Sorting/transferring pompoms with tongs

Foam Shape Butterfly
These were the Tot Trays that were laid out for Sprout, and she was somewhat interested in them, but for the most part she made up her own activities this week.
She did play with the Melissa & Doug Primary Lacing Beads
and had a great time. We are still working on lacing more than one bead on the string. Sprout did try this...
But soon decided that it was far more fun to wear them on her fingers.
Even while riding her car.
She is still learning how to use the Alligator tongs
. Here she is trying to figure out how to use them.
Sprout also found some blocks that we bought for her from IKEA. She thought these would be a good addition to her Tot activities. And really, how could I say no?
Projects
We had two project this week to. The first went with Eric Carle's Very Hungry Caterpillar. Sprout really enjoyed reading this book. We made a coffee filter butterfly, using dried markers to watercolor.
Sprout then used the stamp markers (we normally use them to "reward" her for cleaning up) to decorate the doll clothespin we used to make the body of the butterfly.
I'm sorry I don't have a picture of the final product.
Our second project was our stART project for this week. It went along with The Grouchy Ladybug
by Eric Carle. We made a contact paper/tissue paper suncatcher.
I had planned on using parts of the Tot Pack from 1+1+1=1, and making some elements of my own. I made a good number of activities, but didn't really use most of them. The one that we did use was a butterfly shape matching game. Go check out the Tot Packs page to see what else I made.
Sprout really enjoyed the butterfly shapes matching game. I wasn't sure how she was going to respond to this, because (as I've said before) she's not always into "traditional" matching ideas. I guess you could say she wasn't into the "traditional" methods this time either. She made her own activity. I gave her 3 wings and then showed her a wing to match to one of those 3. Apparently, she thought she needed to look at them from a different point of view.
After doing this, she thought that it would work better to put the cards on the tennis racket and work from there. And you know what? She loved playing this way, and did a great job making matches.
Sprout wanted to try out the camera again this week. I will admit that it is getting harder to take pictures of her working on projects because she wants to check out the camera. She took this picture while sitting on my lap. Yes, she figured out which button made the camera take a picture, and proceeded to take 3 of these pictures. (Please ignore the toys under the chair, they have been picked up!)
We took Sprout to a Garden Center nearby that has a Butterfly Pavilion. We're thinking about planting a butterfly garden in back, so we thought we would check out what the garden center had while showing Sprout the butterflies. They didn't have many, but she loved watching them fly around.
(I'm sorry there are no pictures, I forgot our smaller camera and my iPhone chose that time period not to work :-(. )
While planning for the next couple weeks, I decided that we would pick a book to establish our theme and work from there. Next week's book is Goodnight Moon
.
I'm really looking forward to this theme and have been working to create projects and Tot Activities for Sprout to do next week. We'll let you know how it goes.
Hope you all had a great week! To see what other Tots were up to this week go to
1+1+1=1
.