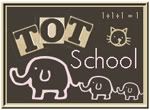 This week we focused on Laura Numeroff's books,
If You Give a Mouse a Cookie
and
If You Give a Pig a Pancake Big Book
. These are two of my favorite books for little ones. As we were reading these, I kept thinking about all the activities we will be able to do for these when Sprout gets older. I love how the same book can be applied to kids of different ages, and they all get something different out of it. I know that it will be great in the future.
This Tot Trays we did this week were:
If You Give a... File Folder Game

Playdough

Stickers
Again, this week there were more activities out, but Sprout wasn't all that interest. Ironically, she had been trying to get at her Tot Trays whenever we walked past that room, but when it was actually time she decided she would rather be doing other things.
Like...
But she did play with her new file folder game a little. I think mommy liked it a lot more than she did.
Of course, she loved playing with stickers again. This seems to have become a new favorite.
I was shocked when she pulled out the playdough this week and actually wanted to use it. Usually, this one just sits on the shelf and she ignores it for the week.
She also thought it was fun when I was showing her how to roll the playdough into snakes and balls. This is what she did with the balls. I thought it was pretty creative.
Projects
This week I thought we would make pancakes and cookies to go along with our books. One morning I thought we would make pancakes, and asked Sprout to help. She decided it was more fun carrying on with her current activity.
But she did enjoy eating them.
I spent the rest of the week trying to find the time to make cookies. As it turned out we made them one night toward the end of the week after dinner. I'm sorry I don't have any pictures of the actual process, as I was a little too hands on. Here is Sprout checking out the cookies in the over making sure everything is okay.
And of course she loved eating these too. JGD took these pictures, as I was trying to make sure that my couch didn't get smudged. (I know using her chair at the table would have been a good idea, but for the amount of time it took her to eat the cookie, it would have been more time getting in and out!)
We also made a pig and a mouse to go along with our books this week. (These should be our stART craft for the week, but so far I haven't gotten around to the separate post).
For the pig, I cut out a red circle (I didn't have any pink construction paper, and Sprout picked red) for the head and a smaller circle for the snout. Then I cut out a couple ears and gave Sprout the googly eyes.
I was so impressed with where she placed everything.
Until... the ears. This is when I had the "bad mommy moment" of taking them off and asking her to put them on again. And sure enough she put them back in the same spot. "So there, Mommy!"
When we made the mouse, we used a sheet that I had printed off a while ago from
First School
. We just did the head. Somehow, I accidentally printed off two. So I cut one out myself, and let Sprout work on one.
These scissors are still tough for Sprout to use. I think I'm going to get her these (
Melissa & Doug Educational Toy ChildSafe Scissor Set
) instead.
I glued the pink part of the ear on to the grey to make it a little more toddler friendly. Sprout did the rest.
And even though I didn't get a picture before she dismantled the whole thing, it looked a lot like her pig!
Practical Play
We decided to take a family field trip to a local landscaping place that also have a U-Pick it area. This was a lot of fun for us. (Well, so I heard, JGD took Sprout, while I picked some things for dinner.)
We were greeted by:
Then we found
Then it was time to go pick some food. They had:
We also picked some spinach, but that's not that interesting to look at. They had eggplants, blueberries, onions, lettuce, and a whole bunch more. And this is the end of the season for us! (Backwards, I know!)
Sprout's Books
I've been meaning to put these in a post for a couple weeks. These have become Sprout's go to books.
She loves her Mickey Mouse Clubhouse Look and Find book. She is now at the point where she understands what she is supposed to do and will point to the object/character in the box and then find them in the picture!
She also loves her Little Einsteins Animal Alphabet book. "Eo!" She loves look at this book. She is getting really into letters (even though we haven't really worked with them), so she loves looking through this book.
This week she got a set of Mickey Mouse Clubhouse mini board books in a carrying box, and loves her "Gickey" books. She carries them all over the house. I think she likes taking them out and putting them back in more than reading them right now, but she does let us read them every once in a while.
Next week is kind of up in the air right now, as I have just realized it is going to be a really crazy week or two. We'll see what we can get done.
Hope you all had a great week! To see what other Tots were up to this week go to
1+1+1=1
.