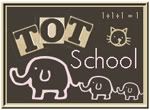 Okay, okay. So we've been slacking a bit recently. Sorry about that. This week Nana and Uncle J came to visit. Which made Sprout very happy! We don't get to see my family that often as they live in New England. At some point we decided that we would go to Disney to see the Flower and Garden Show while they were visiting. This became a 2 night, 2 day trip. We did try to do a little this week, but didn't really accomplish much. I will take any real Tot School and use it next week, when we actually do our Butterfly (insect) theme.
While they were visiting, we went to visit Bubbie and Great-Grandpa. We had a great time at lunch and hanging out at there house for a bit. I'm sorry I don't have any pictures. I tend to let my mom take most of the pics when she's around. When I get some from her, I will add them in.
We went to Disneyworld Tuesday night and stayed at Port Orleans French Quarter.
Our first day, we went to EPCOT for the Flower and Garden Show. Sprout had a great time checking out the topiary creations, going on the rides, playing on the playground, and going to the Butterfly Garden. She even got to see a butterfly up close when one landed on our carrier. (Again, my mom took more pics than I, including one of the butterfly that landed on me.) This was a great way to start our butterfly theme. I'm hoping to take Sprout to another butterfly garden this week.
This is the only picture I was able to get while wearing Sprout.
Sprout is checking out all the fish in the Finding Nemo attraction.
Then we went to Hollywood Studios. This was Uncle J's pick, since he was subjected to flowers and picture taking the day before.
This was fun for all of us. We went on the Behind the Scenes Tour (which we all said was much better when the park was MGM).
Sprout is ready to get on with the tour. (Notice where Nana and I are sitting in relation to JGD, the camera.)
Nana and I sat on the opposite side of the tram from Catastrophe Canyon, and JGD was the closest to the canyon. However, Nana was the wettest of all of us in the end. Who knew the water would travel over the roof of the tram and land on us?
Okay, let me start this section off by mentioning that I am one of those moms that lets her daughter watch TV. I do monitor what she watches and I am always trying to lessen the amount of time we watch. We are Playhouse Disney fans. (This might explain why Sprout can name all of Mickey and his friends, the Little Einsteins and say "Toodles".) This meant that one of Sprout's favorite parts of our trip was meeting the Little Einstein's.
Here she is meeting Leo and Annie.
Sprout love the Playhouse Disney Live show.
JGD's favorite part of the show was watching the guy "backstage" set the settings up to change.
My favorite part was watching the kids (especially my own) watching the show. And the Disney cast member working the show. Notice the first cast member who was making sure we were all doing what we were told.
Notice the happy, smiling face on the cast member who was interested in getting everyone participating.
Here is the cast member who relieved him.
Sprout loved the show. Here is saying "Toodles."
We all had a great time on the rides. JGD and I went on Tower of Terror (which I did not enjoy at all. Give me a roller coaster any day!) When we got in line, we were given the "red card" that helps them to determine the wait time for the line. Since they started using these, I've wanted to be the person who gets to carry it through the the line. I don't know why... but I did.
In case you wanted to know what the card says...
Now it's time for us to go on Toy Story Mania (for the second time). I think this was the ride that everyone loved!
Have a magical week!
To see what people who actually did Tot School this week did, go to

1+1+1=1

.